Volkswagen ID.4 Takes Home Top Safety Pick + by Insurance Institute for Highway Safety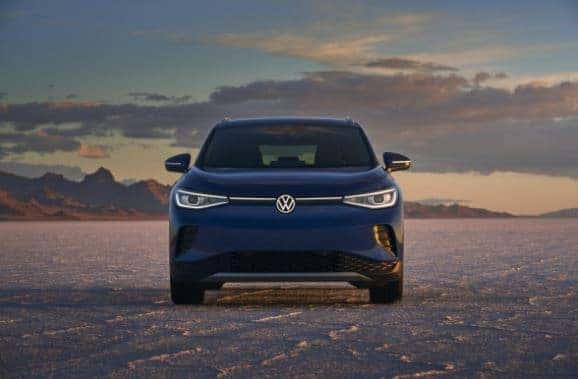 Recently, Volkswagen announced that the 2021 ID.4 has earned a 2021 Top Safety Pick + by the Insurance Institute for Highway Safety (IIHS) – the highest honors.
To qualify for a Top Safety Pick + award, vehicles must have good ratings in each of the Institute's six crashworthiness evaluations. They must also have good or acceptable headlights and available front crash prevention that earns advanced or superior ratings in both vehicle-vehicle and vehicle-pedestrian evaluations.
Introduced for the 2021 model year as Volkswagen's first all-electric SUV, the ID.4 meets all those requirements.
The 2021 ID.4 earns an acceptable rating for the standard LED headlights, a good rating for the available premium LED projector headlights, and good ratings in the six crashworthiness evaluations. The Front Assist system – standard on all ID.4 models – receives a superior rating for vehicle-vehicle front crash prevention and an advanced rating for vehicle-pedestrian front crash prevention.
Standard features on the ID.4 include IQ. DRIVE advanced driver assistance with hands-on semi-automated capability, lane centering and a capacitive steering wheel to help make driving easier. With its full equipment package, the ID.4 utilizes a front radar, front camera, two rear radars and eight ultrasound sensors to collect data from the surrounding area, enabling Travel Assist (semi-automated driving assistance).
"The ID.4 was engineered, loaded and priced to win the hearts of SUV owners who are simply ready to go electric – and fall in love with Volkswagen again," said Scott Keogh, CEO, Volkswagen Group of America. "It drives like a GTI, has the packaging of a Tiguan and the purpose of a Beetle, all the best thing about VW in one package."