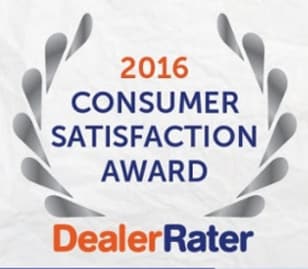 DealerRater has awarded Kelly Volkswagen the Consumer Satisfaction award in 2016, honoring the top 10% of dealers in the U.S. And Canada
Kelly Volkswagen has been named by DealerRater.com
a 2016 Consumer Satisfaction Award winner for 2016. The award recognizes Kelly Volkswagen in
Danvers, MA
as a top-performing car dealership who has received stellar customer reviews on the DealerRater platform in the United States and Canada.
The honor from DealerRater is an extension of their Dealer of the Year program. Kelly Volkswagen was rated in the top 10% of dealerships in the country based on "PowerScore", a rating calculated using the dealership's average DealerRater star-rating as well as the total number of reviews written during the calendar year.
This award demonstrates to consumers that Kelly VW is dedicated to their satisfaction as a customer both during and after working with the dealership.
"It is a tremendous honor to be named a 2016 Consumer Satisfaction Award winner by DealerRater.com, and we are committed to providing the highest level customer experience in the area," said Kelly Volkswagen General Manager Mark Galante.
"We thank our customers and DealerRater for this award. We are very appreciative to have such great customers at Kelly VW."