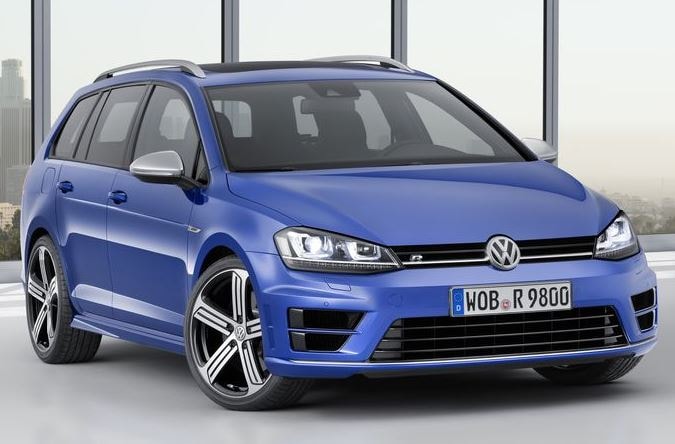 Recently, a report has come out from automotive news outlet
Jalopnik hinting at the possibility of the VW Golf R Wagon making its way to the U.S.
on a full-time basis, rather than the
random photos taken of it in places like Arizona
.
On display this week at the
L.A. Auto Show
, the elongated Golf R "variant" as it is being called, is impressive in stature and unsurprisingly capable and useful.
USA Today Writer Fred Meier says
, "The Golf R Variant will have the R's 296 hp., 2.0-liter turbo four, six-speed dual clutch automatic and sophisticated chassis systems with VW's 4-Motion all-wheel drive." That means a max speed of 155 mph, and 0-62 in just a shade over five seconds.
In the back, you would find an area that can seat five with lots of room for storage in back, and it gets even better. Take occupants out, put the seats down, and you'll find a 6-foot long cargo hold capable of holding 57 cu. ft. of space, more than enough space for just about every driver's car storage needs.
The Golf was just announced as the
Motor Trend "Car of the Year"
, and
Green Car Reports' "Best Car To Buy 2015"
so there is a lot of love going out to the Golf family of vehicles right now.
Volkswagen
is in the process of launching the e-Golf in the U.S., and based on early reception the EV should do quite well stateside.
Perhaps the better question to ask is why the German automaker wouldn't bring the Golf R Wagon to North America? It has the market, the chops, and the following needed to be a hit over here.
You should tell VW to bring the Golf R Wagon to America. If so, tell them
Kelly Volkswagen
in
Danvers
wants to be the first to get it when it arrives.