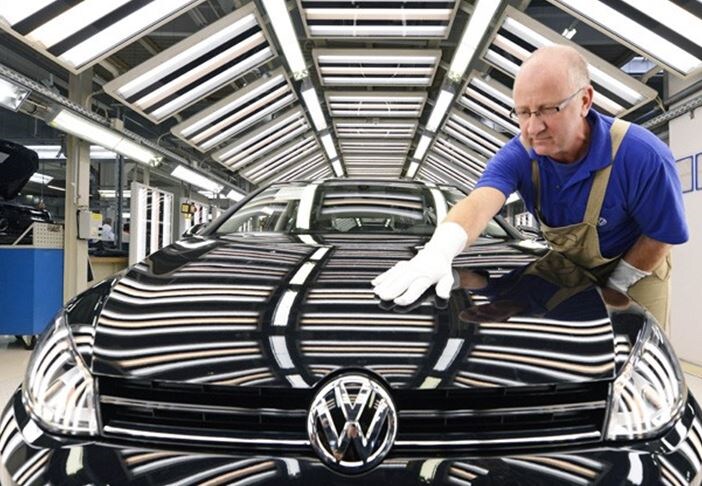 The detail to work that goes into each Volkswagen creation is a marvel in itself.

Of the world's top three automakers, only one can lay claim to having the
2015 North American Car of the Year
,
2015 MotorTrend Car of the Year
,
2015 Yahoo Autos Car of the Year
, and quite possibly
the highest revenues, profits and assets of any automaker
:
Volkswagen
.
The German automaker offers a unique selection of vehicles, all without compromise, while offering industry-leading safety, comfort, efficiency and styling. Here are three honest reasons to make your next vehicle a "V-Dub":
1. The Brand Dedicated To Safety - And Showing It
Volkswagen has shown over the years a continued level of commitment to making their vehicles safe. Beginning in 2010, the automaker boasted
five 2010 IIHS Top Safety Picks
.
Then, taking the industry by surprise, Volkswagen received nine IIHS Top Safety Picks for 2011 and 2012 in back-to-back years. This made everyone understand how dedicated VW is to safety inside their models.
2013 saw eight VW models passing the tighter requirements to be named a 2013 IIHS Top Safety Pick award winner. Then, as the tests became even tougher in 2014, still four Volkswagen models were named to the prestigious Top Safety Pick and Top Safety Pick+ awards.
Your safety is no joke, and Volkswagen clearly takes it very seriously, evident by these remarkable safety awards time and time again.
2. Generous Styling Paired With Impressive Efficiency
This is one of the huge reasons the Golf family of vehicles won the previously mentioned 2015 awards for the German automaker. The Golf offers a level of sporty styling unlike most hatchback/5-door competitors, and
the fuel economy return for the least-efficient Golf member is still an astounding EPA-estimated 36 MPG on the highway
.
Volkswagen is one of very few automakers to prove there need be no sacrifice of style or power in a vehicle for fuel economy efficiency.
3. Comfort And Space For All
The Passat, Golf and Jetta are just a few vehicles that come to mind as tops in their class when it comes to offering the most comfort and space for their occupants. In fact,
check out this article where the Jetta beats out every other compact car in the segment as a leader in backseat space
. The Jetta also had the most trunk space of them all.
No driver or passenger enjoys an uncomfortable ride. If space and comfort is a priority in your next vehicle, we highly recommend just about any Volkswagen in their lineup. You can't go wrong.
And if you care about the quality of dealership you purchase your next VW at, "Make It Easy" and visit our team at Kelly Volkswagen in Danvers.