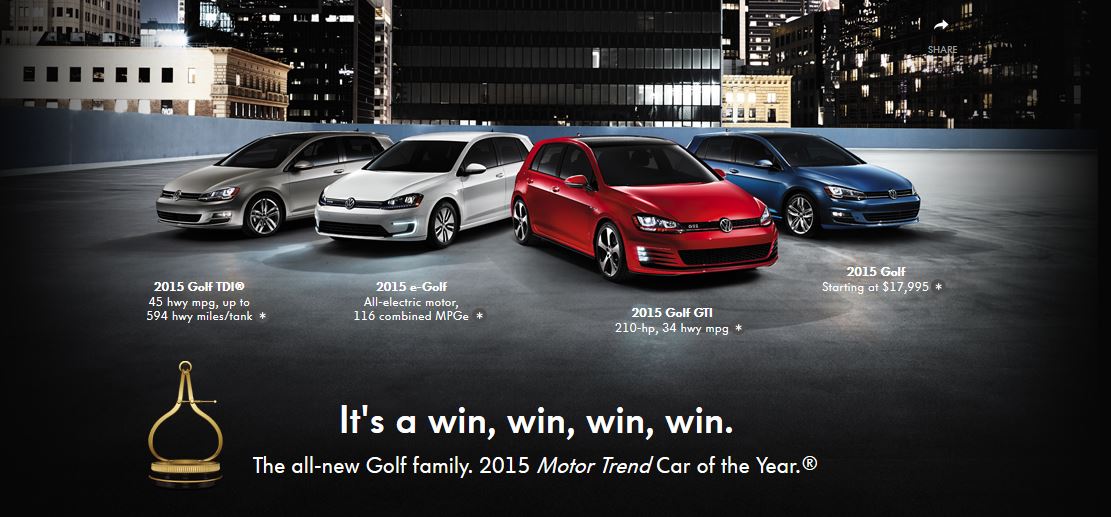 You knew it was coming. Do not act surprised.
Volkswagen's Golf
has long been a treasured vehicle of
VW
owners, loved for its spacious interior, smooth on-road composure, fuel-saving capabilities, and fun to drive nature.
It just got better than ever before in its seventh generation.
Now lighter and more economic than in previous years, the Golf still offers owners a large cabin and the same amazing driving dynamics. For that reason (and many others) the Golf has been named the
Motor Trend Magazine Car of the Year
.
This comes on the heels of another prestigious award received by the Golf range of cars, the
Green Car Reports' Best Car To Buy 2015
.
Perhaps more impressive within that award, a poll was put out by
Green Car Reports
asking readers to vote on the cars up for the award. The Golf range won out with the readers as well.
Reviewers enjoyed the upscale interior in the Golf, with more than enough power coming from the powertrain and its high value and lovable VW nature.
Motor Trend Editor-In-Chief Ed Loh spoke highly of the new Volkswagen Golf, raving about its design and engineering.
"The Golf is studied by all the auto industry," Loh said. "It's a model of packaging efficiency."
Green Car Reports extended praise to the e-Golf, saying, "It's simply the most 'normal' electric car we've ever driven."
Other cars up for the award were the Audi A3, BMW 2-Series, Ford Mustang, Honda Fit, Hyundai Genesis, Kia Sedona, Lexus RC, Maserati Ghibli, and the Mercedes-Benz C-class.